Dirty Martinis Good! Apple Martinis BA-Double D -- BADD!
My weekend was pretty cool -- depending on what time and day you are asking me about. Friday I got tickets to the Virgin Music Festival the line up is as follows:
Red Hot Chili Peppers, The Who, The Killers, The Flaming Lips, The Raconteurs, Gnarls Barkley, Scissor Sisters, Keane, Thievery Corporation, Clap Your Hands Say Yeah, The New Pornographers, Drive-By Truckers, Kasabian, Brazilian Girls, Wolfmother.
Are you kidding me with this line up?? I know! It's going to rock!!
Friday evening I went to drinks with Kate and Mario. And well something happened -- I was feeling great drinking my dirty martinis then they ran out of olive juice!! Then the fate full question was asked, "Do you want an Apple Martini?" I said yes -- that was the beginning of the end. I got very very intoxicated. There was throwing up in a vehicle -- crying -- and a lot of Kate support! I laid on her couch for most of Saturday. We went to see Clerks II (which rocked!) and then I was STILL dizzy and bad stomachy at 6:30 -- so I stayed over again. Kate was SUCH a good friend! She took care of me very well. Mario is very patient and understanding allowing me to take up most of his weekend.
I think it was the Apple Martinis that did me in -- my beloved dirty martini would never weld such a blow against me!!!!!!
Oh got my hair cut on Thursday night. I took these pictures after I played softball this evening, so be kind. --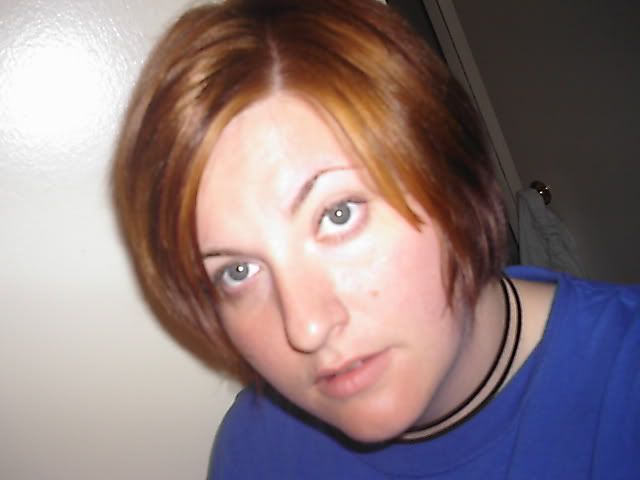 My moving and packing aren't going too well. I have gotten everything ripped up and thrown around -- but not a thing really "packed." I have been really unmotivated lately to do ANYTHING. I got my brand new sewing machine last Saturday-- I have not even taken the paper out from under the pressure footer!!! It is SO terribly tragedic!


I played softball tonight. We won both games. I did okay (read as -- didn't fuck up TOO much!) SO I am pretty tired. I have along day of explaining to my boss why things haven't gotten done then the first round of kickball play offs! I will update more as the packing begins.
Thanks and shout outs to my peeps Kate and Mario for above and beyond friendship this weekend!
Signing off for now. Savor the flavor and drink the blue kool-aide. (not the green apple tini)